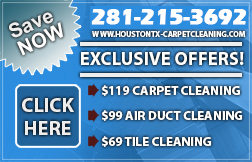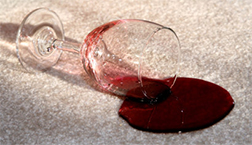 Carpet Cleaning Houston
With our hot water extraction process your carpet will be dry in 2-5 hours. Our 7 step deep cleaning featuring Rotovac technology insures your carpet is not just clean but completely restored to it's natural beauty. Most importantly, our cleaning products are safe for children and pets. Our Technicians are trained to the highest standards and each has a minimum of 5 years carpet cleaning experience. So, don't settle for a wand cleaning. Check out the difference that our techniques make!
With us we set exact appointment times because we know your time is valuable. Next day and even same day appointments are available most days. Please see our value packages above for special prices. We offer a free in home evaluation and quotation for homeowners interested in our Gold or Platinum packages All workmanship is guaranteed to meet and exceed your expectations. Each customer receives our famous 1 Year Return Visit Warranty Service included with every carpet we clean!
When a cat or dog urinates on carpet the urine smell and sometimes even the stain cannot be removed by simply cleaning the carpet. This is because once the urine evaporates under the backing of the carpet what stays behind are sticky crystallized uric acid salts. These uric salts provide a food source for bad bacteria to feed on. As the bacteria feed on the uric acid salts they release ammonia gases. This is what we smell and associate with cat or dog urine. You may notice this smell more on a rainy or humid day. Keep in mind your animal's sense of smell is more acute so he / she can detect it even if you don't. This reinforces the animal's behavior and they continue to have "accidents".
Be aware as you inspect your carpet for pet urine issues your little guy or gal may have done his / her business in more areas than may be noticeable. Some pet urine may not leave a stain. We have products like UPT and live bacterial enzymes to effectively liquefy the uric acid salts where they can be extracted from your carpeting. The live bacteria is applied after the cleaning to kill any remaining "bad" bacteria. These products are non toxic, safe for children and pets and are guaranteed to remove most urine stains and smells. This urine treatment will leave your home smelling wonderful! Some urine stains, yellow in color may not come out of your carpet. We will do everything humanly possible to achieve successful results. This includes hand extraction techniques with urine claw on stains.
You can find more information and more services that you may need on our other pages. So call us today to find out more about what we can do for you!!!
Services